Holiday-themed Decoration Ideas with Liquid Metals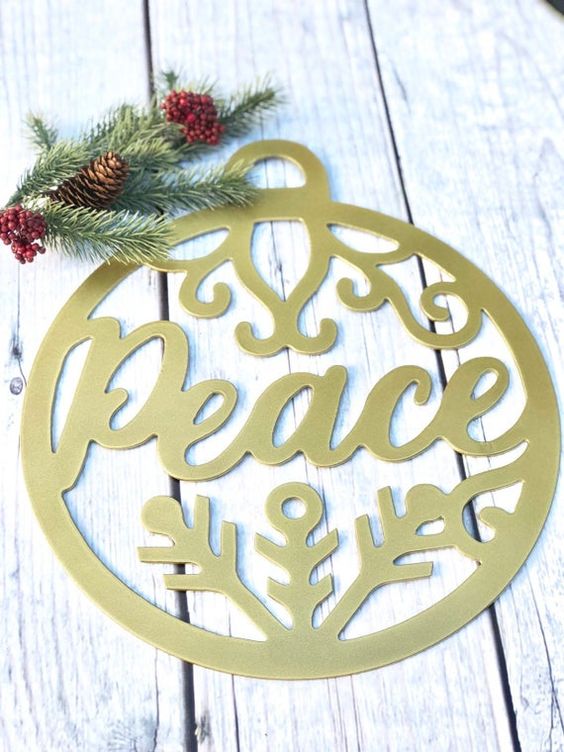 The holidays are just around the corner, and with it, the most wonderful time of the year. Holiday tunes are everywhere, reds and greens are in, the spirit of giving and gratitude is in the air, and for everyone who loves decorating, it's the best time to decorate your home or office! 
At LIQMET liquid metals, we love this season and we love to help you achieve the best holiday decor yet! So we thought it best to compile some holiday decor inspirations for you using liquid metals. But why liquid metals, you may ask? Well, they have a natural sheen and are available in holiday-themed colours. Plus, they are very durable. Meaning, you can use your holiday decor this year and the next!
Shining, shimmering Holiday signs
First impressions last. And what better way to leave a great first impression to your guests than to have a festive, sophisticated golden Holiday-themed sign hanging to your door? You can customise your sign to include any message or element you want. Then coat it with liquid metals in festive colours such as gold,  tahiti, and copper.
Holiday-themed sculptures
Accessorise your living room by adding holiday-themed sculptures coated with liquid metals! Metal coatings from LIQMET can substantially improve the appearance of sculptures by adding that lustre. LIQMET's cast look and tactile sense of the surface allows for more cost-effective and higher-quality manufacture. Similarly, LIQMET can be used on decorations made from concrete, ceramics, and other common materials in the industry.
Jingle balls
What is holiday decor without Christmas balls, right? Enhance the look of your typical ornaments by adding decorative liquid metal coatings. Don't worry, while they look and feel like real metals, they're lightweight and won't weigh your foundations down.
Don't risk any delay, order liquid metals for your holiday decoration
What are you waiting for? Order LIQMET liquid metals today! We deliver worldwide (except Bahrain). We can also connect you to our registered applicators so you need not worry about liquid metal applications.