HOW TO APPLY
LIQMET LIQUID METAL PAINT
There are a number of ways to apply LIQMET liquid metal paint or coating. You can use: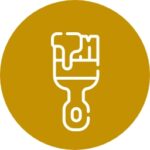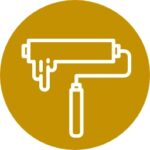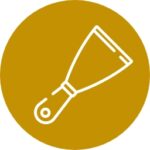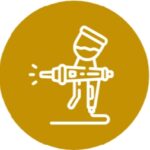 You can also apply liquid metal paint in your own way.
Since our liquid metal paints are supplied in a ready-to-use condition, it will not take long to mix parts A and B together. This leaves you free to concentrate on the finishes and textures that you want to create.
HOW TO APPLY A
SPRAY VISCOSITY
You don't need to apply a spray viscosity only with a spray gun. It's worth trying different tools to find a quick, easy, and probably unique way to apply the liquid metal. Because our metal paint doesn't have a toxic smell, they're pleasant to work with.
The spray viscosity can be applied with a very thin layer, which is very cost-effective. But be careful: dramatically reducing the thickness will not allow you to sand the dry surface without cutting through.
The spray viscosity is also good for application to moulds using a spray gun or even a brush. It guarantees that you won't miss any spots. The best results when using a spray gun and the spray viscosity can be achieved on human-face sculptures. The adhesive property of liquid metal and its ability to hold on to vertical surfaces (thixotropic) are very good. It covers inverted surfaces without licking even if the metals are heavy.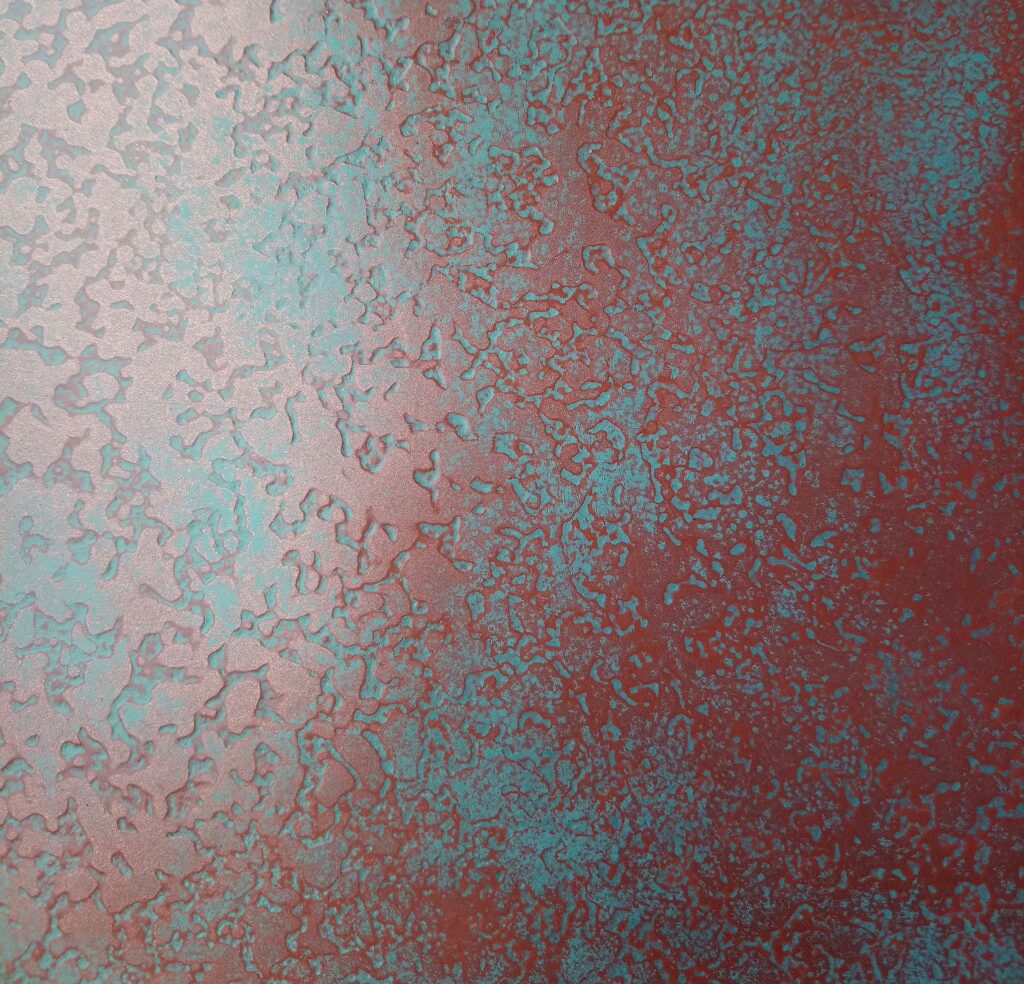 HOW TO APPLY A
BRUSH VISCOSITY
LIQMET's brush viscosity is a very thick material, similar in texture to mashed potato. It allows unlimited thickness of 1-10 cm or more. Moreover, there are no settling (dimension changes) and cracks when the surface dries. If you're wondering how to reduce the amount of material for the application for cost-effective purposes, you should consider using a spatula, which will allow you to spread the material with a coverage reduced to 500 gr per sqm. But the final result will look like a solid cast surface with a cold touch.
One other important thing:
All our liquid metal paint can be mixed together to adjust the color if you want to create something unique. Also, you can mix liquids together to get the proper viscosity for your project.
Furthermore, during the application, two or more metals in different viscosities can be used at the same time. We show this method during our training session. Learn more about our training.
We have a standard range of decorative liquid metal paints and coating, which usually have a temperature range of no more than 100 degrees. However, if the surface reaches more than 100 degrees, we can offer you fire-retardant metal coatings that have similar metal colours.
CHECK OUT OUR

YOUTUBE CHANNEL
Some examples of the application techniques can be found on our YouTube channel.
FREQUENTLY ASKED

QUESTIONS
Is it paint?
No, it is not metal/metallic paint. It is a patented process that allows the application of metal in a cold, liquid form.
Is it metal plating?
No, metal plating is an electro-chemical process. Liqmet-Liquid Metal is a cold application metallization process that can be applied to a variety of surfaces. These include, but are not limited to: Laminate, melamine, wood, plastic, gypsum, fibreglass, ceramics, concrete, foam, porcelain, glass, and metal.
Is it powder coating?
No, powder coating is baked on. Liquid Metal are sprayed on, rolled on, brushed on, hand-applied, or poured on. It may also be cast.
Can it be used on outdoor products?
Yes, over the correct substrate and when additional polyurethane coating is applied.
Does application of the Liquid Metals require special equipment?
No, most manufacturers have the necessary equipment, such as spray guns, brushes, spatulas and polishing items. We can assist you in selecting the proper equipment.
Is there a minimum thickness limitation?
A thickness of 0.8mm to 1.0mm can be achieved in a single spray application.
What Surface Effects can be Achieved with Liqmet metal Paint?
The ability to modify the viscosity of Liquid Metal allows us to carry out its application by rolling, brushing, spraying or with a spatula, to create an endless variety of finely textured surfaces. Special, deeper surface effects may be created by applying a thick coating and working with different techniques. The finishes are only limited by your imagination.
What substrates should not be used?
The only substrates we do not recommend are silicone, unsealed styrofoam, Teflon® and some epoxies.
What is the coverage of each spray Liquid Metal kit?
Each kit covers up to 1 square meter, depending on the skill of the spray operator and the shape of the piece.
Is there any special training required?
Yes, training is highly recommended in order to achieve the best quality application. Two-day, hands-on courses are held in Sydney.
Is there heat involved?
There is no heat distortion and no heat impact on the substrate. It is a cold metalizing process.
Are LIQMET metal coatings flexible?
Yes, LIQMET liquid metal coatings can be applied to flexible surfaces.
Do Liquid Metals conduct electricity?
No, they do not conduct electricity, and it is non-galvanic.
Will metal coatings oxidize?
Yes as any other correspondent metals. However, the oxidation process can be sealed to preserve the effect of the desired oxidation stage.
Are the LIQMET metal Paint waterproofed?
100% waterproof finish can be achieved with standard clear coating.
Are the Liquid Metals UV resistant?
Yes. 100%.
How many coats are needed?
All our liquid metal coatings are applied in one coat only.